A Musical Play on the Life and Work of Martin Luther
With Lukas Ullrich and Till Florian Beyerbach, from 14 up
Deutsch / English
Trailer (German)
In German only: Press Reviews (PDF, 5 MB), Press Kit (PDF, 2 MB), Radio Commentary SWR1 (MP3, 4 MB), and SWR4 (MP3, 10 MB)
We are currently working on an English version of the play and the content of this website for summer 2016. Please feel free to contact us!
The Play
»Play Luther« is made up of three cornerstones: a diversified debate on the catch-all phrase 'Church' in terms of medieval and contemporary aspects; a scenic play about Martin Luther using different points of view and experimental set-ups of milestones in his life; and finally the musical arrangement of selected songs by the creator of church music, which are performed live and in a new format – influenced by modern, contemporary music, but keeping the spirit and language of the close to 500-year-old songs alive.
The Set Design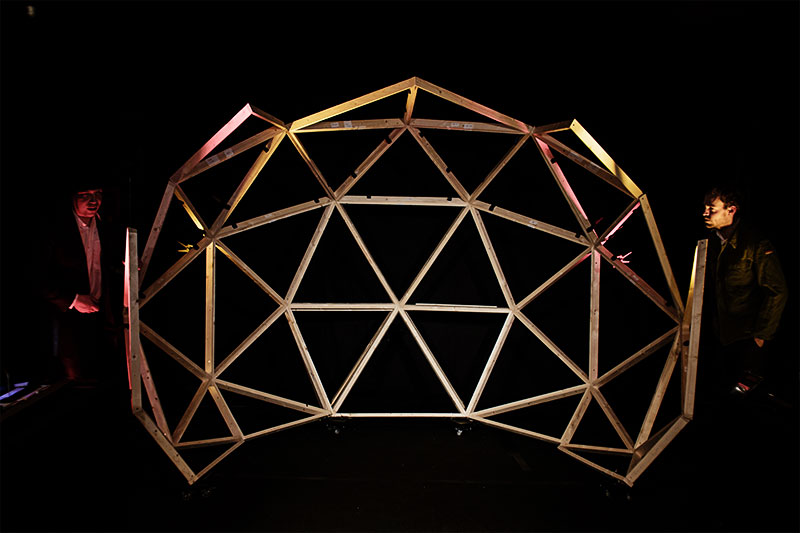 In ancient traditions the Holy Trinity is symbolised by a triangle surrounded by an aureola. The stage set is a metaphor for the history of Christianity and symbolises a society in constant change, built on one another and supporting itself. Whilst it creates a sacral space, it also allows the audience to freely associate the individual structure fields in various ways.
Greetings (German)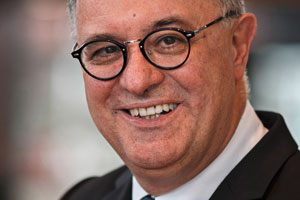 Dr. h. c. Frank Otfried July, Bishop of the Evangelical Church of Wuerttemberg [Photo: EMH/Gottfried Stoppel]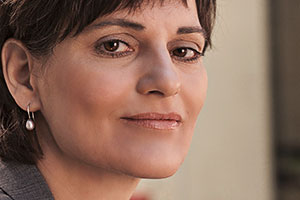 Brigitte Loesch, State Vice-President of Baden-Wuerttemberg [Photo: Pressebild]
Dr. Birgit Schneider-Boenninger, Cultural Office of the City of Stuttgart [Photo: Horst Rudel]
Speaker: Joerg Adae, recorded in the jkStudio.
Tour Dates (Germany)
Sunday, September 11th 2016, EMK Birsfelden (CH), 10 am
---
Saturday, September 24th 2016, Gemeindehalle Altbach, 7:30 pm
---
Tuesday, September 27th 2016, Stiftskirche Dettingen a.d. Erms, 11 am | 7:30 pm
---
Saturday, October 1st 2016, Turnhalle Brettheim, 8 pm
---
Tuesday, October 4th 2016, Eugen Grimminger Schule, Crailsheim
---
Thursday, October 6th 2016, Evangelisches Gemeindehaus Hattenhofen, 8 pm
---
Friday, October 7th 2016, Emmauskirche Karlsruhe, 7 pm
---
Monday, October 10th 2016, Heinrich-Fries-Haus, Heilbronn, 7:30 pm
---
Friday, October 14th 2016, Freihof Gymnasium, Goeppingen,
---
Thursday, October 20th 2016, Schlossgartenhalle Ettlingen, 11 am | 7:30 pm
---
Friday, October 21st 2016, Laurentiuskirche Stuttgart, 7:30 pm
---
Monday, October 24th 2016, Augustinum, Muenchen-Neufriedenheim,
---
Mittwoch, October 26th 2016, Christopheruskirche, Goettingen, 9 am | 12 am | 8 pm
---
Saturday, October 29th 2016, Johanneskirche, Schalkau, 6 pm
---
Sunday, October 30th 2016, Abteikirche, Offenbach-Hundheim, 16 Uhr
---
Monday, October 31st 2016, Matthäuskirche, Hannover, 10 am | 7 pm
---
Friday, November 4th 2016, Falkenbergkirche, Norderstedt, 7:30 pm
---
Sunday, November 6th 2016, Stadtkirche St. Marien, Riebnitz-Damgarten, 5 pm
---
Thursday, November 10th 2016, Augustinum, Stuttgart-Killesberg, 7 pm
---
Friday, November 11th 2016, Gemeindezentrum St. Georg, Noerdlingen, 5 pm | 8 pm
---
Sunday, November 13th 2016, Martinskirche, Albstadt, 5 pm
---
Tuesday, November 15th 2016, Alenberghalle, Muensingen, | 7 pm
---
Mittwoch, November 16th 2016, MAV der ELK WUE, Stuttgart
---
Tuesday, November 22nd 2016, Turnerheim, Weil im Schoenbuch, 8 pm
---
Friday, November 25th 2016, Dom, Schleswig, 7 pm
---
Thursday, January 12th 2017, Stadthalle, Homberg, 7:30 pm
---
Saturday, January 14th 2017, Donaumooshalle, Koenigsmoos, 7 pm
---
Friday, January 20th 2017, Albanskirche, Laichingen 7:30 pm
---
Sunday, January 22nd 2017, Paulusheim, Bruchsal, 2 pm
---
Monday, January 23rd 2017, Evangelische Stadtkirche, Sinsheim 2 pm/7 pm
---
Tuesday, January 24th 2017, Stadthalle, Maulbronn, 7:30 pm
---
Friday, January 27th 2017, Festhalle, Leinfelden, 7 pm
---
Sunday, January 29th 2017, Martin Luther Kirche, Alsdorf (bei Aachen), 5 pm
---
Tuesday, January 31st 2017, Friedenskirche Oelde, 7 pm
---
The Glass Box of the Wuerttembergischer Kunstverein in Stuttgart was home to »Play Luther« for the premiere and the first couple of days. The play can be staged on theatre stages, in schools, town halls, congregations, churches, and at other events. To date, »Play Luther« has been performed here.
Cooperation
Due to the topic's social, political and spiritual relevance as well as its cultural importance and appeal it reaches the target group is very broad, ranging from public institutions of all kinds, churches and congregations to interested people from all walks of life, of all creeds or world views.
Schools are another potential partner (for the subjects German, History, Religious Studies and Music). For the preparation and follow-up of the play we can provide lesson ideas and teaching material about the historical background free of charge.
We already collaborate with the following organisations, but we are always interested to hear from potential new collaboration partners. Please feel free to contact us!
Contact
For theatres, schools and public institutions: Lukas Ullrich
+49 176 27246191
lukas@playluther.de
For theatres, churches and congregations: Till Florian Beyerbach
+49 177 7322461
till@playluther.de
Motivation
»Play Luther« would like to reveal to the audience the enormous field of Martin Luther and the impact of the Reformation and to examine it for its social aspects. The roots of our contemporary social co-existence go back to Martin Luther, the phases of his life and the resultant impulses that he stood up for. The core message of his life's work is »that society and the congregation need to evolve.«
The title »Play Luther« describes this production's ambition: to play, to play Luther, to play Luther musically – from different starting points, in new experimental set-ups, in scenes, and finally in the music.
Production
Idea: »Eure Formation« (Lukas Ullrich, Till Florian Beyerbach)
Duration: 90 minutes
Performance, piano, vocals: Lukas Ullrich Lukas Ullrich [www.lukasullrich.de]
Performance, drums, vocals: Till Florian Beyerbach Till Florian Beyerbach [www.tillflorianbeyerbach.de]
Story: Uwe Hoppe [www.uwehoppe.de]
Musical direction: Andrew Zbik [www.zbikbeat.de]
Stage technology: Kai Schmidt
Set design: Lukas Ullrich
Production year: 2014
All rights reserved by »Eure Formation«
Latest news about the play: facebook/playluther
Photography: Joris Haas [www.jorishaas.prosite.com]
Video: Jan Koch [www.akmii.de]
Graphic design: Michael Heidinger [www.michael-heidinger.com]
To date, »Play Luther« has been performed here: Plenarsaal des Stuttgarter Landtags, Gutenberg-Museum Mainz, Wuerttembergischer Kunstverein Stuttgart, Werkrealschule Neuffen, Bandhaustheater Backnang, Wuerttembergische Landessynode, Geschwister-Tage Bad-Liebenzell, Evangelisch Methodistische Kirche Stuttgart-Feuerbach, Die Raetsche Geislingen, Martin-Luther-Kirche Stuttgart-Sillenbuch, Theater am Riff »Die Koralle« – Bruchsal, Riebesamstiftung Murrhardt, Apostelkirche Stockdorf, Friedenskirche Starnberg, Haus der Heimat Stuttgart, Christuskirche Crailsheim, Festhalle Nordheim, Martin-Luther-Kirche Ulm, Stadtkirche St. Veit Waldenbuch, Augustinum Freiburg, Stadtkirche Goeppingen, Peter- und Paulskirche Koengen, Matthaeuskirche Gerlingen, Paulinenpflege Winnenden, Kirchenkreis Iserlohn, Stadthalle Marbach, Rathaussaal Grimma, Gymnasium St. Augustin Grimma, CVJM-Bildungsstaette Wuppertal, Ev. Kirchengemeinde Wuppertal-Ronsdorf, Michaelskirche Waiblingen, Klosterkirche Neuruppin, Paul-Gerhardt-Gemeinde Frankfurt, Ev. Kirchengemeinde Hochheim, INTHEGA-Theatermarkt Bielefeld, Lutherkirche Bruchsal, Haus im Weinberg (Markdorf), Stadtpfarrkirche Biberach, Eugen-Hohly-Halle Welzheim, Stadtparkhalle Bretten, Ev. Kirchengemeinde Esslingen-Hohenkreuz, Laurentiuskirche Tegernau, Waggonhalle Marburg, Bildungswerk des Kirchenkreises Ploen, Ev. Kirchengemeinde Rohlstorf, Schwarzwaldhalle, Baiersbronn, Uditorium Uhingen, Moerikehalle Kirchheim unter Teck, Lutherkirche Baden-Baden, Ofenlochhalle Langenau-Hoervelsingen, Martin-Luther-Forum Ruhr (Gladbeck), Christuskirche Neunkirchen am Brand, Haus der Begegnung Leonberg, Stadthalle Dornhan, Hans-Multscher Gymnasium Leutkirch/Allgäu, Vesperkirche Weingarten, Montfort-Gymnasium Tettnang, Stadthalle Wangen im Allgäu, Gymnasiums Isny, Stadthalle Wernau, Festhalle Kirchberg, Alter Stadtsaal Speyer, Ernst-Moritz Arndt Gymnasium Bergen/Rügen, Stadttheater Minden, St. Petri Kirche Melle, Bürgerhaus Hohengehren, Christuskirche Neunkirchen am Brand,Haus der Begegnung Leonberg, Stadthalle Dornhan, Hans-Multscher Gymnasiums Leutkirch im Allgäu, Vesperkirche Weingarten, Montfort-Gymnasium Tettnang, Stadthalle Wangen im Allgäu, Gymnasium Isny, Stadthalle Wernau, Ernst-Moritz Arndt Gymnasium Bergen (auf Rügen),Mittelschule München-Moosach,Augustinum München-Neufriedenheim, Turnhalle Niederstetten, Weckerlinhaus Stuttgart, Gießnauhalle Nabern, Lutherkirche Konstanz (Konzil), Kelter Niedernhall
Imprint
Eure Formation
Lukas Ullrich und Till Florian Beyerbach GbR
Schweitzerstr. 4
70619 Stuttgart
Germany
+49 176 27246191 | +49 177 7322461
info@playluther.de
Liability for content: The content of our page has been compiled with utmost care. However, we do not assume any liability concerning the correctness, completeness and topicality of their content.
Liability for links: The homepage contains links to external websites of third parties, over whose content we have no influence. Therefore, we cannot accept any liability for this third-party content. The relevant provider or operator of the pages remains responsible for the content of linked pages at all times. The linked pages were checked at the time the link was created for potential statutory violations. No illegal content could be identified at the time of generating the link. However, it is not reasonable to expect the content of the linked pages to be inspected on an ongoing basis without specific indicators of a violation of the law. We will remove relevant links immediately as soon as we become aware of violations of the law.